I hope you've all had a great June and July! I've been busy trying to track down lost packages and send out replacements. It might not be as fun as hanging out with you all at conventions, but it's work that I am happy to do to make sure that everyone who backed me gets what they were promised. If you're waiting on a replacement, I'm aiming to get what I believe to be the last of the replacement copies out by August 11th. Thanks for being patient.
The people's favorite bear
The last time I wrote, it was the end of May and I was just about to take off for the UK. I taught the game nonstop from doors-open on Friday to close on Sunday, with only a few minutes of down time during the main hall hours.
I went to UKGE primarily to teach others about Outrun the Bear, but when it was nominated for the best new family game, I was super excited! For my first game to have received the honor of that nomination was amazing– but to think that it actually won the UKGE People's Choice Best New Family Game! I honestly couldn't believe it when I got the news. If you voted for my game, thank you sooooo much!
Looking for the game?
Now that Outrun the Bear is almost fulfilled to all of our backers it's time to make the game available to everyone I can. If you're looking for a copy of the game, here are the awesome FLGSs that backed our Kickstarter and have some of the deluxe versions in stock:

Isle of Games Tucson 7835 E Broadway Boulevard, Tucson, AZ, 85710
Good Games Indianapolis 111 South Meridian Street, Indianapolis, IN, United States, Indiana
Get Your Fun On 3020 W New Haven Ave Melbourne , FL 32904
Boardwalk Games 2810 E Trinity Mills Rd Ste 184 Carrollton, TX 75006
Because these stores backed our Kickstarter, they are the only place where you'll be able to pick up the Kickstarter Deluxe version of the game now that the Kickstarter is over.
As for your favorite FLGS, we're working our way into distribution so hopefully they'll have copies soon. You can always go in and let your local game store know you'd like a copy, which might speed the process along.
And if you can't wait? Well I guess you'll just have to come grab one at…
GENCON!
Outrun the Bear will be at Gencon this year in the Indie Game Alliance booth. If you're at Gencon this weekend, swing by booth 336 and check out the game. I'll personally be at the booth doing demos on Thursday 10am – 12pm as well as Saturday 4pm – 6pm. If you'd like a designer-signed copy, I promise to have a good pen with me.
While you're at Gencon, there is another indie project that I highly recommend checking out!
Boarding Party
A whimsical strategic resource gathering game that takes place aboard a starship. It's designed by my good friend Ty McDonald. I've play tested it several times now and absolutely love it– and each time I've played it, the improvements Ty made were top notch! So if you have some time to raid the Playtest hall definitely check it out.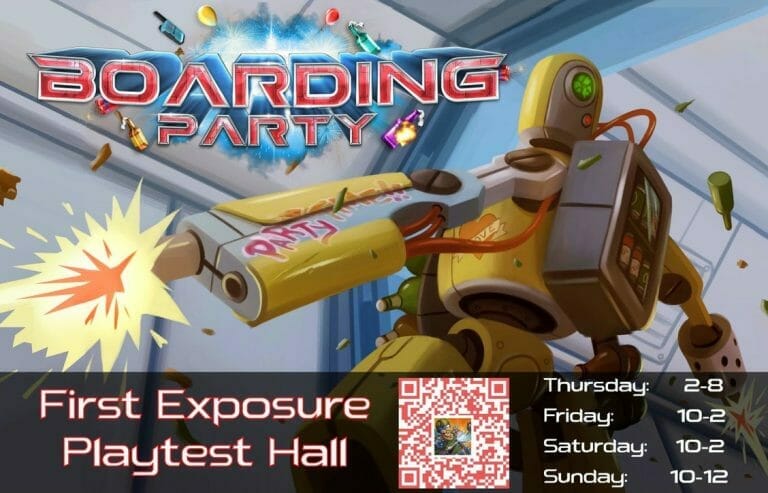 I hope to see you at Gencon and if you can't make it, I look forward to sharing some stories when I get back, as well as some more ways for you to get your paws on Outrun the Bear.