We've got some exciting news for you this month! Outrun the Bear's preproduction phase is starting to wrap up and we'll soon be green lighting the production process. There could still be some delays, so we're not changing the timeline just yet, but we are ready to add the closing of the pledge manager to it.
PREPRODUCTION
Last month I shared that Gameland would be sending me the pictures of the physical proofs as well as sending them my way. I'm happy to report that both of these goals were completed ahead of schedule. We now have the physical proofs, and they've been thoroughly reviewed. There are very few changes that we need to address before production starts.
Here is a peek at what you'll have coming your way.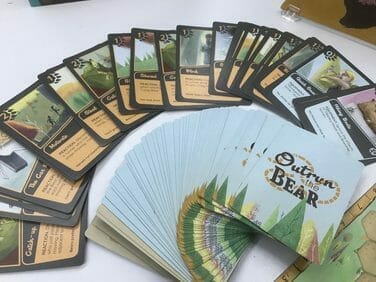 Now you might have noticed the deluxe version's acrylic standees were missing from those images, but don't worry. I chose to exclude them because I'm currently working with Gameland to improve upon the samples they sent me, and as soon as that is done we'll be ready to tell them to push that print button.
PLEDGE MANAGER CLOSING
Now that we're so close to the print stage, it's time to turn off the pledge manager. Closing the pledge manager ensures that no one accidentally orders a game we can't send them.
That said, we still have 9% of our backers who have not yet filled out the pledge manager. This is a crucial step for us to get you your copy of the game, so please fill it out as soon as possible if you haven't already.
How do you know if you haven't filled it out? Thankfully Backerkit has the ability to send you an email notification, so please check your inbox, spam, and promotions tabs to see if you have an email from them. You'll have until March 20th to fill it out. After that I will have to try to personally collect your information, and you could see a delay in getting your copy of Outrun the Bear delivered.
Well that's all the news for this month. I'll be in touch on March 19th with another update on production and hopefully an updated delivery schedule!